Best of Chile from Atacama to Patagonia 2021 Classic Group
Booking Dates
01/01/2022 through 04/16/2022
Travel Dates
01/01/2022 through 04/29/2022
Provider
Insight Vacations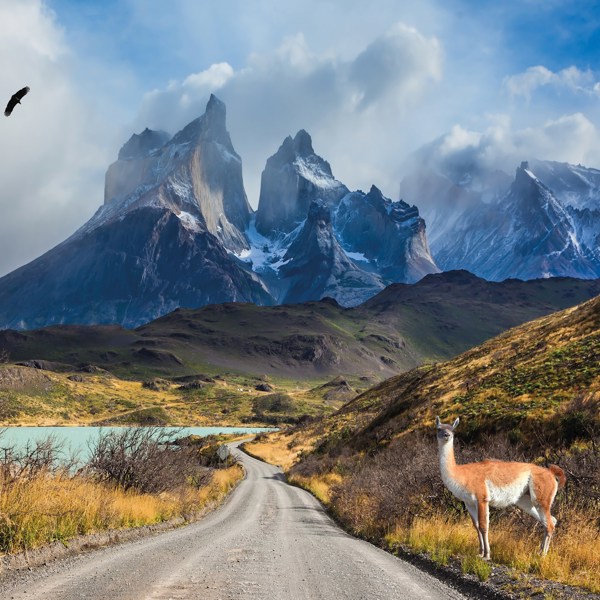 Best Of Chile From Atacama To Patagonia 2021 Classic Group
Journey across Chile on an immersive 11-Day adventure, from Santiago set against the snow-capped Andes to the UNESCO protected sites of Valparaíso and the llama farms of Torres del Paine. Wine connoisseurs will be in their element at the Kingston Family Vineyard where a private Casablanca Valley Wine Tasting uncorks the finest local tipples-including regional Sauvignon Blanc, Chardonnay and Pinot Noir. In Torres del Paine, join the Patagonia Ranch cultural experience and see the world through the eyes of your local baqueano guides-the cowboy descendants of horsemen who came to work the ranches over a century ago. In Atacama, journey 14,000 feet up into the Andes for a dip in the Puritama Hot Springs before an evening of stargazing under the crystal-clear skies of the Chilean desert.


Choice Highlights
Well-being
: Experience enhanced hygiene protocols to align with the latest guidance following COVID-19.All Travel Directors, Well-Being Directors and Drivers have completed training in enhanced well-being and hygiene protocols.
: Our Well-Being Directors take a proactive approach to your welfare ensuring all well-being regulations are met (available on tours with 21 or more guests).
: Hand sanitizer is freely available on board for you to use throughout the day.
Summary
Torres del Paine National Park: Savour delectable meals at Hotel Las Torres Patagonia with organic produce from the region's oldest garden that utilizes bio-intensive sustainable methods.
Authentic Dining
Santiago: In the evening meet your Travel Director and fellow guests at the hotel, where you'll enjoy a delicious Welcome Dinner while getting to know some of your new travel companions.
Santiago: Visit Kingston Family Winery, a small boutique winery located in Casablanca Valley for an introduction to and tasting of their exquisite wines.
Santiago: Enjoy lunch at El Galeon restaurant, located in the heart of the "Central Market," Santiago's main market for fish and seafood.
Torres del Paine National Park: After a day exploring, join your Travel Director and new friends as you toast to your travels at a Celebration Dinner with wine.
Dining Summary: 10 Breakfast (B), 1 Dinner (D), 4 Dinner with Wine (DW), 4 Lunch (L), and 2 Lunch with Wine (LW)
Top Rated Highlights
Valparaiso: Join a Local Expert on a guided tour of the coastal city of Valparaiso and explore this colourful UNESCO protected site.
San Pedro de Atacama: Head to the Moon Valley for a guided visit. A nod to its name, this moon-like area is made up of dunes, caves and caverns.You'll learn more about its history and the land formations from a Local Expert.
Santiago: On arrival, take a tour of the city with a Local Expert. Discover its Neoclassical landmarks including the 18th century Metropolitan Cathedral, vibrant Central Market, and San Cristobal Hill.
Torres del Paine National Park: Cruise on the Ultima Esperanza Gulf to admire the beauty of the Serrano glacier and the glacier Balmaceda, part the southern ice fields and home to some of the most impressive sites of the region.
Torres del Paine National Park: Take a scenic drive to Torres del Paine National Park, with plenty of scenic photo stops along the way. The park is situated in Chile's Patagonia region and is famous for its glaciers, grasslands, imposing mountains and the three granite towers it is named after. The park is also part of UNESCO's Biosphere Reserve System, known for its rare wildlife.
Insight Experiences
San Pedro de Atacama: Our journey to the Altiplano starts in the early hours, just in tie to watch the sun rise in one of the most important geothermic fields in the world: the El Tatio Geysers. There are over 70 geysers with pools of boiling water spurting vapor and its best to see them first thing in the morning, so you can truly appreciate the beautiful contrast of colours between the intensely blue sky and the pristine vapor from the geysers. You will then enjoy a well-deserved breakfast in this amazing setting, in the shadows of the Andes. Take a moment to warm up as the temperatures in the zone can range from -2°C to 24.5°C (28°F to 76° F). On you way back to San Pedro de Atacama, you will travel through beautiful landscapes, seeing the valleys, flora and fauna, and maybe even spotting some of the local vicunas and vizcachas – a real highlight.
San Pedro de Atacama: Discover the origins and development of the Atacameño culture, with iconic sites such as Pucara de Quitor or the village of Tulor. San Pedro de Atacama is the archeological capital of Chile. Apart from its spectacular landscapes, its history is also a fundamental part of any visitor's experience.
San Pedro de Atacama: Explore the Atacama Salt Flats, the largest in Chile. One of the driest parts of the world, the area stretches for over 40,000 square miles (103,600 square kilometres). View the nearby volcanoes, and keep your eyes open for species of wild birds including the Andean and James flamingos on the shores of the Chaxa, Miscanti and Minque Lagoons.
Torres del Paine National Park: This afternoon, join a Patagonian Ranch Cultural Experience and learn about the baqueano (cowboy) way of life. Many of these local cowboys are the descendants of horsemen who came to work ranches in this remote region more than a century ago. During your time with them, you will learn about their special clothing, saddles and other horse tack. You'll also be shown how to properly saddle a horse, nail a horseshoe and of course how to ride. Enjoy a Yerba mate tea with them while chatting about Patagonian culture.

Additional Included Highlights
From time to time, your Travel Director will delight you with an I…

Itinerary
Destination
Pricing
Terms and Conditions
| Day | Description | View All |
| --- | --- | --- |
| Day 1 | Arrive in Santiago | Details |
| Day 2 | Valparaiso and the Casablanca Wine Country | Details |
| Day 3 | On to Atacama | Details |
| Day 4 | Explore Atacama | Details |
| Day 5 | Atacama Salt Flats | Details |
| Day 6 | Atacama to Santiago | Details |
| Day 7 | On to Puerto Natales | Details |
| Day 8 | Balmaceda and Serrano Glaciers Excursion | Details |
| Day 9 | Torres del Paine National Park | Details |
| Day 10 | Sightseeing in Torres del Paine | Details |
| Day 11 | Back to Santiago | Details |